from Wired News:

On Wednesday, the six photographers with the nonprofit Legacy Project unveiled their massive camera at a news conference. They hope to have a photograph completed by July 8.
The reason that this is announced in a news conference is:
The massive camera refers here is a decommissioned Marine Corps hangar, and
The photograph is a 31-by-111-foot black and white photograph on a piece of white fabric.
By the way,
Guinness World Records has created two new categories for the project -- world's largest camera and world's largest photograph -- and will certify the records once the photo is complete
.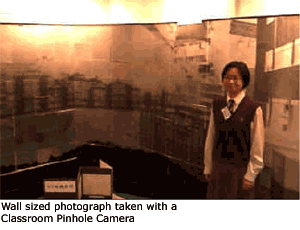 Well, using a large room (or a hanger) as a pinhole camera is NOT new. Back in April, I
reported
about a teacher in Hong Kong converting her classroom into a pin-hole camera.
Education leads in innovation! Hurray!