The July/August 2005 issue of Educause Review (Vol 40 Number 4) features Learning Space Design. The article I enjoyed most is Future of the Learning Space: Breaking Out of the Box.

With the ubiquitous availability of ICT, information gathering (traditional listening to lectures and taking notes) and information search (library visits) can be done online in quiet comfortable corners. These activities can be done alone or in small group. Today's laptop computers have limited power storage, typically several hours. Most will not last the whole day. Most are not-water proof as well. Hence it would be beneficial to incorporate lots of quiet dry spots with wireless connectivity and power points so that students with wireless notebook can conduct their information-related activities, preferably in real-time with those who prefer to sit in a lecture room/hall.

The greatest value of physical learning spaces is for face to face meetings and work that cannot be done online. Typically, these would involve group activities, experiments and interaction within real situation. The Educause Review covers this aspect very well.

An important aspect of higher education is the induction of the learner into the community of practice of the subject domain. The induction consists of both the formal part (knowledge and practices of the domain) as well as the social connectivity part (knowing who's who in the domain). The learning spaces in a higher education should have appropriate spaces to facilitate the "accidental" meeting of diverse communities, e.g. eating venues, social places and "hang-out areas".

Another interesting topic to explore in terms of the design of learning spaces is the potential and value of creating a physical space which can augment virtual space, or vice versa.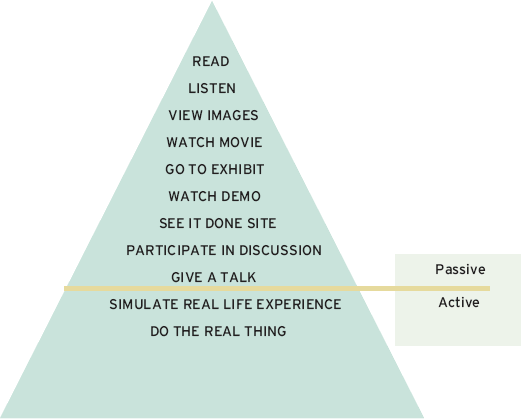 As we understand more about the value of experience in the learning process, we can predict that more learning experience will be delivered via simulation/role playing. Courtrooms, office, international conference settings and other "typical" spaces can be useful in bringing some of the virtual simulation into a physical space. How valuable and feasible is that remains to be seen. However, it will never be too early to start investigating.